Yesterday, Jess, Myself, and some of the family took a little trip to View A Miracle.  We decided we wanted to do this from the beginning, but had to wait for the optimal time for Choochie (26-34wks).  This is the same place Jess went for the surprise gender determination.  I have to say it was one of the most amazing things I have ever seen, and I am so glad we were able to share it with family!  Check out the video of our little miracle!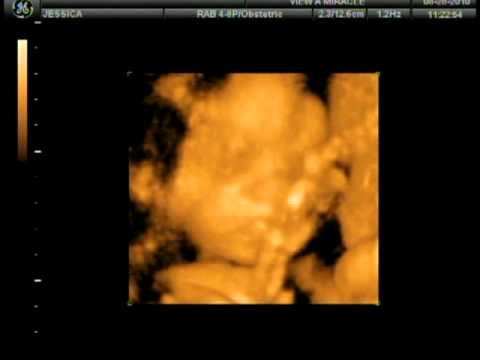 Here is a couple stills from the session 
 That is definitely a experience I will never forget.  It will be pretty cool to show Choochie when she gets older too!!
The last couple weeks have been pretty quiet.  I had some ups and downs and a little (another) injury, but I will live.  As for Jess, she's doing good.  She is totally tired all the time, but trucks right along!!  She's a trooper!!
Now on to Choochie!
How far along? 27 weeks 2 Days!
How Big Is Choochie? Choochie is about the size of a head of cauliflower, fifteen inches, and more than two pounds!  Choochie can recognize our voices now!  Her muscle tone is gradually improving, and her lungs are capable of breathing air but if the Choochie was born now, she would need medical assistance to breathe!
Maternity clothes?  Everything Maternity!!
Sleep?  Jess dreads the time at night when we go to bed!!
Movement? Sometimes Choochie is out of control, and others she just rolls around.  She has taken an affinity to kicking me in the face.  She won't move when my hands are there, but as soon as i put my face there, POW!!!!
Food cravings? Bagels, Grilled Cheese, Tomato soup noodles, Gatorade (red), Pink Lemonade, Water, any type of sweets!!!!
Gender – confirmed again this week.  I thinks it safe to paint the nursery now! 😉
Milestones? Choochie has moved on to a whole new growth chart this week.  No more crown to rump, it's head to toes!! I think Jess is definitely getting the Braxton Hicks contractions now as well!!
Emotions: Not too bad this week, we did have one minor episode yesterday, but the problem was solved, and all is well!!